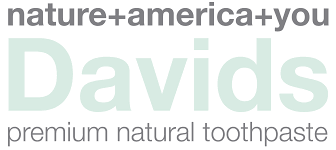 "Davids was founded with one vision.... create the highest quality premium natural oral care with a commitment to sustainability."
Eric David Buss began looking into the ingredients being used in the toothpaste he was using, and found that many of the ingredients were unhealthy.  After looking for a better alternative, and not happy with what was available, a "simple" idea of creating his own toothpaste was formed. This initial idea turned into a four-year obsession to develop the very best natural toothpaste possible and in 2015 Davids was launched.
Through exhaustive research with industry experts, we were able to identify the best natural ingredients to safely and effectively fight to remove plaque, whiten teeth, and freshen breath.  While talking to ingredient suppliers, we also found that most toothpaste companies use a lot of imported ingredients in their "Made in USA" toothpaste, which led to our commitment to using premium USA origin ingredient in our effort to sustain American jobs. Today, our vision, research, development, and commitment to sustainability brings you Davids Premium oral care.
Naturally Sourced Ingredients
Our naturally sourced ingredients are minimally processed or altered after being sourced from nature. An example of this would be our natural mint flavoring. The mint plant is grown on farms, then harvested and natural oils extracted through a steam distillation process. Yes, this requires processing, but the final product is a premium natural mint oil minimally altered from how the oil is found in the mint leaves prior to processing. Another example of a naturally sourced ingredient is calcium carbonate, which is used as a micro abrasive to clean and polish teeth. Our calcium carbonate is primarily made up of natural limestone mined from the earth. Once the limestone is quarried, it is then crushed, screened, separated, milled, and pulverized. Calcium carbonate undergoes an additional process in which the limestone is further purified, so yes, processing is required, but the final product is a limestone material minimally altered from how the material is found in the earth prior to processing.
Davids is high performing natural oral care, that works.
Our high-performance formulas use naturally sourced & derived ingredients to effectively whiten teeth, fight plaque, & freshen breath.
WHITENING
Davids uses premium micro abrasives made from natural sandstone and quartz powder to polish the surface stains from teeth and naturally whiten without the use of chemicals. More importantly, these micro abrasives safely polish away the plaque on teeth. You know that feeling of smooth plaque free teeth after going to the dentist for a cleaning…. this is the feeling you get each time when brushing with Davids!
ANTIPLAQUE FORMULATIONS
The number one thing that causes cavities is plaque, Davids is formulated to be an antiplaque toothpaste.  
In order to effectively remove plaque, there needs to be a certain level of abrasiveness.... not too abrasive, and not under abrasive.  
The American Dental Association (ADA) has developed a rating system where they recommend that toothpaste not have an RDA rating above 200 to be safe for the teeth.  Any toothpaste under 200 is generally considered safe for daily brushing and not overly abrasive.  
Davids is in the range of 100 RDA, so is in the sweet spot of being safe for your teeth, but abrasive enough to remove the plaque.  
ENAMEL HEALTH
Davids sensitive+Whitening toothpaste is the best nano-hydroxyapatite toothpaste to repair sensitive teeth and remineralize enamel. Hydroxyapatite is a natural mineral that makes up 97% of tooth enamel.
Nano-hydroxyapatite has been added to Davids toothpaste to repair the tubules and block the passageways to the nerves.
Nano-hydroxyapatite was first developed by NASA to help repair and strengthen the teeth of astronauts returning from zero-gravity environments, and we are proud to make this same modern science available in our Davids Sensitive+Whitening Nano-Hydroxyapatite toothpaste.
This high-performance, fluoride free toothpaste takes a revolutionary approach to relieving sensitive teeth. With its unique ability to bind to enamel and smooth out micro-imperfections, nano-hydroxyapatite actively works to repair the enamel and block the nerve passageways to relieve tooth sensitivity. 
With all the benefits of the original Davids Natural Toothpaste, plus the regenerative and remineralizing powers of nano-hydroxyapatite, regular brushing with Davids Sensitive+Whitening Nano-Hydroxyapatite toothpaste leaves your mouth feeling relieved from pain, enamel smooth and restored, and teeth naturally white and clean.